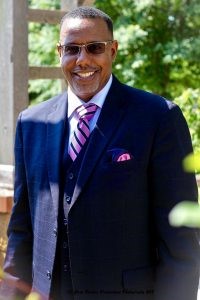 PASTOR RODNEY PAYNE
N.E.M. ASSISTANT DIRECTOR
Pastor, Bethlehem Star Baptist Church
Oklahoma City, CA.
Rodney R. Payne
Reverend Rodney Payne is the dynamic Pastor of Bethlehem Star Baptist Church, whose tremendous compassion for people, mixed with high energy preaching is rapidly making him a major influence in not only the Oklahoma City area, but around the country as well. Under the power of the Holy Spirit, Pastor Payne has been able to share the gospel of Jesus Christ to people of all ages through various youth, adult, and couples' ministries. He is dedicated to teaching the world how to live in the love of God, walk in the will of God, and experience the power of God.
Pastor Payne spent 22 years in Corporate America with a fortune 500 company in various capacities including finance & management. Since then he has been speaking, teaching and training others and corporations in leadership and coaching capacities. During this time he has also been able to provide seminars, leadership conferences / retreats and training to many companies, organizations and individuals around the world.
In 2018 Pastor Payne added the titles of independent certified coach, teacher, trainer and speaker with The John Maxwell Team. He adds a synergy of energy, commitment and excitement with all participants who join one of his powerful master groups. The facilitated groups offer a combination of masterminding, peer brainstorming, education, accountability and support in a group setting that will sharpen your business and personal skills. By bringing fresh ideas and different perspective, with these masterminds he has helped many achieve success.
In 2019, Pastor Payne became N.E.M.'s Co-Executive Director and continues to help drive the organization toward its goal of evangelism and equipping God's saints.
At the leading of the Holy Spirit, Pastor Payne and his wife, Thelma, organized One Voice Ministries, Inc. and have devoted their lives to the purpose of impacting families and marriages for Christ. The Payne's give God all the glory and praise for calling, equipping, and using them for his glory and the edification of his children.